Exploring the contribution of housing adaptations in supporting everyday life for people with dementia: a scoping review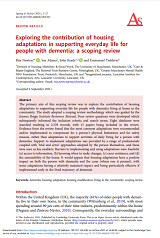 Published by Cambridge University, the primary aim of this scoping review was to explore the contribution of housing adaptations to supporting everyday life for people with dementia living at home in the community.
Evidence from the review found that the most common adaptations were recommended and/or implemented to compensate for a person's physical limitations and for safety reasons, rather than adaptations to support activities of daily living for a person with dementia.
Support to implement adaptations was provided by a range of professionals coupled with 'trial and error' approaches adopted by the person themselves, and these were seen as key enablers.
Barriers to implementing and using adaptations were fourfold:
access to information,
knowing when to make changes,
carer resistance, and
the unsuitability of the home.
The evidence review found that housing adaptations have a positive impact on both the person with dementia and the carer (where one is present), with some adaptations having a relatively sustained impact and being particularly effective if implemented early in the lived trajectory of dementia.
The findings from the review also revealed that little is known about housing adaptations and dementia within the UK.