Environmental Design for People Living with Dementia in Extra Care Housing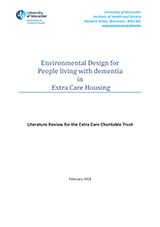 Supporting people to live well with dementia has become a national and global priority.
Globally numbers of people living with dementia are estimated to be in the region of 36 million with this figure doubling by 2030 and projected to be more than tripled by 2050. In the United Kingdom, there are currently 850,000 living with dementia with the figure projected to be over 1 million by 2025.
Extra care housing has the potential to support people with dementia to live independently, particularly at different stages in the disease.
This review looks at the available literature on planning extra care housing for people with dementia.