Ending rough sleeping: the role of supported housing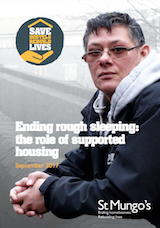 This report from St. Mungo's highlights the need to protect and boost the supply of homeless hostels and other forms of supported housing for people sleeping rough in England.
With an increase in the number of people sleeping rough with multiple and complex needs, this report shows that supported housing is a primary route out of rough sleeping.
However, the demand for these services currently exceeds supply and a lack of move-on options is leading to the silting up of services.