Employing Assistive Technology in Adult Social Care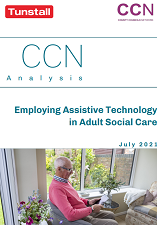 Tunstall has supported the development of the County Councils Network's (CCN) latest Analysis Report: 'Employing Assistive Technology in Adult Social Care', which provides unique insight into the status of assistive technology in local authorities in England, and makes a series of recommendations to Government.
CCN is the national voice for England's county councils, and it prepared the report following a survey of its 36 member authorities, an expert roundtable comprising representatives of CCN's member authorities involved in the strategic delivery of social care services, and a review of relevant literature.
The survey shows that three quarters (75%) of councils report that the benefits of assistive technology are being partially realised within their authorities, almost two thirds (65%) have an assistive technology strategy in place, and 50% believe that their strategy is proactive in supporting their citizens' situations, needs, and conditions. However, the report also found that more can be done to place AT at the centre of local adult social care, and that rurality, costs, and a lack of knowledge are significant barriers.
Key recommendations of the report include:
Ensure that social care reform includes a commitment to a National Strategic Framework for integrating assistive technology into social care.
Ensure there is appropriate infrastructure in place to enable assistive technology to be used effectively in all parts of the country.
Facilitate improved education and training for social care professionals to ensure they are confident in utilising assistive technology within their role.
Encourage greater co-creation of solutions through adult social care professionals and technology developers working collaboratively.
For local authorities, the use of assistive technology is not just about providing effective care for individuals, but is increasingly about developing and delivering innovation-led digital health and care solutions which provide new, more efficient, and effective models for health and care management in the community. It offers a tantalising possibility of having a significant impact on the way care is delivered; achieving better outcomes for people in a more cost effective way than traditional models of care provision

Cllr Keith Glazier, Health and Social Care Spokesperson, CCN