Emerging and developing work to digitally enable care across the East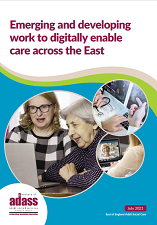 This report was developed by the Eastern Region ADASS Digital Network to share practice and raise awareness about ongoing work in the digital field.
The report is split into a number of different categories which are important to improvement work, highlighting examples of what local authorities are putting in place to enhance digital capabilities and to improve the experience and outcomes for people.
The categories broadly cover the following themes:
Assistive Technology to support people's independence
Keeping people supported and connected through day opportunities
Supporting the workforce with shared information to improve the experience and outcomes for people
Supporting carers in contingency planning Supporting providers with data protection
Supporting people who access care and support to stay well and avoid hospital admission
County wide procurement of care technology
The report mentioned that despite the challenges of COVID-19, the adult social care sector has adapted at scale and pace to support communities through this time with increased and improved partnership working.
Notably, technology has had a significant role to play in supporting the work of councils, in collaboration with local partners and communities. Technology alone will not solve all the challenges facing social care and the NHS, but it can be an enabler of preventative, personalised and joined up care and support.