Embedding Community Circles in Support for Older People Living in Residential Care Homes or Extra Care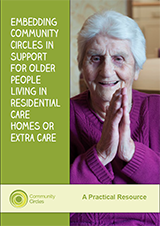 For the last two years Community Circles have been working with Wigan Council and the providers of residential care and extra care support in the Borough to explore how Circles can help increase person and community centred support.
Community Circles took their early learning about how Circles could work and help in these kinds of support and embedded them across Wigan. They are working currently with 19 care homes and 3 extra care services, both directly with individual services and via geographical hubs.
The resource is an interactive PDF which describes the why, what and how of the work to date, shares results and learning to date. Linking off from the main paper are many more detailed materials – tools, handbooks, examples, stories.