Effectively supporting families with social care and housing needs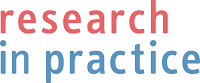 Published by Research in Practice, these open access evidence and tools aim to support families with overlapping social care and housing needs.
The Families and Homes Change Project (opens new window) provides evidence and tools to promote aligning support services, listening to families, improving prevention and early intervention, and increasing legal literacy across specialisms.
The aim is that these resources are utilised to embed change and improve practice to enable better outcomes for families at the intersection of social care and housing.
The evidence and tools provided include: