Easing pressures: how work, money and homes can make our cities healthier and fairer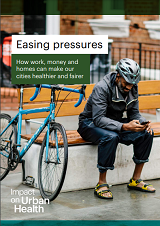 Published by Impact on Urban Health, this report explores how the places where we grow up, live and work impact how healthy we are.
In 2017, Impact on Urban Health embarked on a ten-year programme to understand why and how people develop multiple long-term conditions and to deliver solutions that slow this progression. Working collaboratively with local and national partner organisations, they use existing evidence and new research to build an accurate picture of the scale and nature of the problem.
The report shows how cities afford good health and ample opportunity in life for some and ill health and barriers to wellbeing for others, and how in the London Borough of Southwark and Lambeth, the journey to multiple long-term conditions starts early.
This injustice in who experiences good health is driven by systems and structures in our society and economy.
Housing, employment and deprivation all contribute to the unjust patterns of health inequalities we see in urban places. The report argues that these inequalities are upheld by decisions made every day in national and local government, statutory services and industry.
These choices exacerbate experiences of precarity, uncertainty, discrimination, lack of control and powerlessness which have a profound impact on people's health.
The practical steps that we can all take to reduce health inequity are the subject of this report.
This report has a clear ask to all those working to address social issues, including poverty and debt, housing and employment – to treat these problems as health problems, as well as being important in their own right.
It provides insights from lived experience highlighting that there are key moments in people's lives where an effective support system can make the difference between stable health and a deterioration to multiple long-term conditions.
It is also calling on those who shape policy for our healthcare system to take a much wider view of public health – one which looks holistically at the factors underpinning people's progression to multiple long-term conditions, particularly in the context of economic downturn.
The report concludes with changes they wish to see in cities and invite us to join them in their mission to weaken the link between social and economic determinants and our health, in order to slow people's progression to multiple long-term conditions.