Doing Digital in Later Life: A practical guide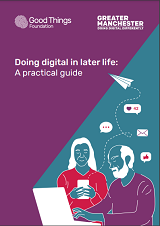 Good Things Foundation conducted a comprehensive evidence review into 'what works' when delivering digital inclusion services to over 75s in Greater Manchester.
The review sought to consider digital in its broadest sense and explored the barriers to digital access, skills and support over 75s face. They also recognised that many older people struggle with digital devices like central heating systems, smart TVs and mobile phones.
The resulting guide is therefore designed to provide 'top tips' to help people supporting over 75s to access digital inclusion support in a way that is right for them.
The contents of the guide include:
Getting people online
Making support accessible
Getting up and running
Supporting people to learn
Keeping people digital
Case studies
The 'Doing Digital in later life – practical guide' was informed by evidence from UK and international grey and academic literature, along with data collected from Good Things Foundation and Greater Manchester Combined Authority.
It includes reference to the TAPPI Inquiry Report: Technological for our Ageing Population – Panel for Innovation Phase One that provides a useful overview of what should be considered in association with smart homes and digitally enabled household appliances.