Digital inclusion and older people – how have things changed in a Covid-19 world?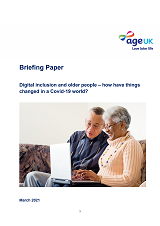 Analysis from Age UK shows that the pandemic has not in fact produced a sea-change in older people's use of digital technology, warning that a drift towards services and activities being online.
It shows that while just under a quarter (24 per cent) of over-75s in England have increased their internet usage since the pandemic hit, this is mainly driven by existing users going online more often. Most older online users say their use has remained unchanged, with nearly one in 10 (9 per cent) actually using it less.
However, Age UK also warn that the rapid pace of this change is leaving significant numbers of older people behind.
While many over-75s are using the internet more for shopping or keeping in touch, some older people have been unable to access free Wi-Fi and computer equipment or training at public spaces such as cafes, libraries and local centres during the pandemic, and many others are physically unable to use a computer or simply not interested in getting online.
Lastly, Age UK recommend much more investment in digital skills training and IT hardware is needed to support older people who are digitally excluded to get online safely and improve their skills. They highlight that, without it, many older people will simply be left behind, with some struggling to access basic goods and services.