Digital Telecare: How ready are we for the digital switch?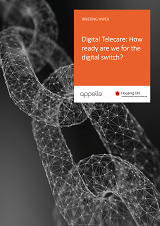 An estimated 18,750 specialist housing developments for older and vulnerable communities could still be without digital telecare and warden call services by 2025.
These are the findings of the 'Digital Telecare: How ready are we for the digital switch? (opens new window)' briefing paper, published by Appello, one of the UK's leading technology enabled care service (TECS) providers, and the Housing LIN. This briefing paper painted an alarming picture for how the sector is reacting to the requirement to upgrade services, with only an estimated 25% (6,250) of housing developments adopting digital services by 2025.
The requirement to upgrade systems to digital has been driven largely by the ongoing digital upgrade of the UK telecoms network, with plans to decommission the Public Switched Telephone Network (PSTN) by 2025.
The move to telecom services being delivered via the broadband network, as opposed to the PSTN, impacts multiple industries. For the telecare industry, where emergency alarms enable vulnerable individuals to live safely and independently, the impact is seen with call failures, whereby up to 10% of analogue calls are failing whilst trying to connect to the operator within a monitoring centre. This can cause significant delays in a lifesaving response.
The briefing paper, a wakeup call for the sector, considers what progress has been made so far and the challenges still faced to ensure essential telecare services are safe now and in the future. It highlights that if demand from housing and social care providers was to increase, as we move closer to 2025, the resources and capabilities within the sector from manufactures and installers through to the supply chain are currently not adequate to meet the potential demand.
Jeremy Porteus, CEO at the Housing LIN, commented:
"The 2025 digital switchover is a significant moment in time for telecare services. Housing providers, both general and specialist including extra care housing, retirement living, or supported housing will need to be aware of the changes and how they can help their customers. It's important that the sector explores product development in smart housing, telecare and digital technology that supports service improvement and therefore transforms the delivery of at home care and support services and does so quickly."