Digital Switchover White Paper - "The Digital Reality"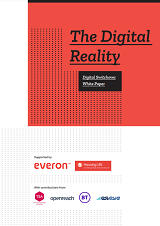 There is an urgent need for all housing and care providers to upgrade analogue grouped and dispersed systems, due to the digital switchover programme. At some point during the run up to 2025, traditional analogue systems will fail. Knowing where to go for help and advice is an issue.
A new white paper supported by Everon and Housing LIN with contributions from Openreach, BT, TSA and Eseye, has been launched for the sector. This paper:
Provides an up-to-date position on the digital switchover from the industry experts.
Pulls out the real risks for buyers and service users.
The opportunities of digital for housing and care providers.
Detailed Q&A with practical tips.
Case studies of those on the digital journey.
This White Paper is a result of a selection of virtual and in-person roundtable events with invited organisations last year, co-hosted by Everon and the Housing LIN. They helped unlock the challenges faced by the specialist and supported housing sectors and identify the solutions to becoming digital-ready in time for the 2025 switchover.
Jeremy Porteus, CEO at Housing LIN, added:
"We are delighted to support this important White Paper. It captures the latest policy context, shares really useful lessons, provides practical tips and highlights examples of practice to enhance the faster adoption of digital-enabled tech solutions that enable person-centred care and support at home."