Digital Innovation Challenge - Unlocking technology to improve care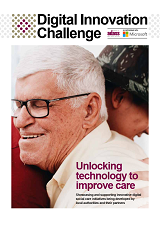 The Digital Innovation Challenge is an initiative developed in partnership by ADASS and Microsoft, aimed at supporting and promoting work by local authorities and their partners that unlocks the potential technology offers for people who access and work in adult social care.
The scheme, inaugurated in 2021 in the wake of the sector's rapid tilt to digital during the Covid-19 pandemic, aims to deliver direct support in the form of advice and technical expertise, and to provide a showcase for progressive practice.
The resultant highlights how the 10 winners were chosen and what ideas they're hoping to launch. They include:
the use of better data analytics in Shropshire and West Midlands ADASS that can enable a deeper understanding of population-level inequalities faced by citizens,
a telecare hub in Wirral drawing on sensor technology around unobtrusive monitoring of health and wellbeing to inform care planning,
a coproduced design solution in Telford & Wrekin to aid the development of a range of place-based and digital elements, centred on a Virtual House and a physical Independent Living Centre; and
Leicestershire social care 'chat box' to help citizens or family members explore social care services and access the information they need.