Developing an extra care housing resource pack, Greater Manchester Health & Social Care Partnership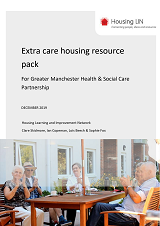 Produced by the Housing LIN, with funding from the LGA, the Greater Manchester H&SC Partnership have published a resource pack that is a useful resource to create and promote innovation, best practice and improve commissioners understanding of workable models of housing with care.
The comprehensive pack developed for this project contains 18 housing examples (extra care housing and others) covering examples of contemporary developments and guidance regarding how these examples can be applied to the councils in the Greater Manchester (GM) area, as well as, a financial model specific to the GM context. In particular, it includes:
national and international examples of service models of housing with care and related housing models suited to older people
analysis of how these models could be applied to the GM context, or how they could be adapted to work within the GM 'landscape', taking into account the demographic and economic profile of the conurbation
exploration of the funding and payment models, both capital and revenue, including demonstrating approaches to charging and contracting
cost benefit analysis impact and evidence of economic impact (including regeneration, economic growth and employment) in relation to extra care housing, and
a financial model which can be used to identify the potential for cashable savings which could be realised from the use of extra care housing as an alternative to residential care.