Designing for disabled children and children with special educational needs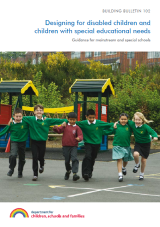 This publication from the Department of Children, Schools and Families, sets out non-statutory guidance on planning and designing accommodation for new and existing schools in England – all of which will have at least some children or young people with SEN and disabilities.
While not housing specific, it has been written particularly for education advisers, architects and designers, and may also be useful to building contractors on school building projects, school/PRU managers, and managers in other children's services. The guidance also includes a series of case studies which illustrate some of the wide range of approaches to meeting the needs of children with SEN and disabilities.