Design guide for wheelchair accessible housing: Occupational Therapy Service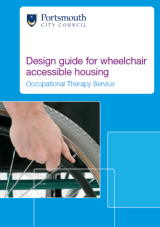 This design guide, published by Portsmouth City Council, represents good practice in home design for wheelchair users.
It's involved the input of architects, surveyors and occupational therapists; and contains information from design briefs of leading housing providers and local authorities.
Each section contains detailed guidance on the spatial requirements, along with illustrative diagrams, to highlight the design standards.
The guide contains standards for the categories:
Wheelchair mobility space - standard wheelchair turning space is 1500mm x 1500mm
Access and ramping - the clear width of the ramp should be a minimum of 1000mm
Doors and windows - all doors should swing beyond 90 degrees, with door stops to protect walls and other doors
Bathroom and shower - plastic rails should be fitted in preference to metal rails and all rails should have a non-slip surface
Kitchen and electrical outlets - kitchen sinks should be inset with a shallow bowl of 150mm deep and the adjacent worktop should be a minimum of 500mm wide