Derby City's Healthy Housing Hub - preventing hospital admissions and more...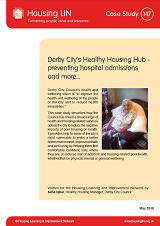 This May 2018 Case Study (no 147) from the Housing LIN describes how Derby City Council has linked a broad range of health and housing related services across the city to reduce the negative impacts of poor housing on health.
It provides help to some of the city's most vulnerable to enjoy a better home environment, improved health and well-being by helping them feel comfortable, confident, safe; where they are at reduced risk of accident and housing-related poor health, whether that be physical, mental or general wellbeing.
Accompanying the case study you can also find a copy of the evaluation research findings (opens new window) undertaken by the Council and Southern Derbyshire Clinical Commissioning Group. It found at one year post intervention proportionally fewer clients were in need of health and care services, other than in the case of outpatient appointments. In particular:
In relation to inpatient emergency care, 20% fewer HHH clients were admitted to hospital when compared to those originally admitted as a result of a fall 12 months earlier, and
91% of HHH clients were still in their own homes at 12 months, at less cost which adds weight to the stated benefits of the HHH.
To read their latest annual report and a useful diagram showing how a healthy home visit can benefit such as addressing falls, cold homes etc, please click on the links below.