Dementia and housing: An assessment tool for local commissioning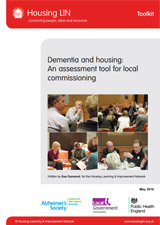 Commissioned by Public Health England in partnership with Alzheimer's Society, the Local Government Association and the Housing LIN, this self-assessment tool focuses on local commissioning processes and decision-making. The main principle being applied in this tool is that all available assets and resources need to be combined, both to create the conditions that reduce the risk of developing dementia, and to develop a framework of support to help those with dementia, their families and carers, to have as good a quality of life as possible. Taking a system-wide approach, it:
covers prevention and promotion of health and wellbeing at one end of the spectrum to specific targeted interventions for people with dementia at the other
spans the whole commissioning cycle from analysing needs and supply/assets through to specific service procurement, as well as monitoring and review - it does not cover practice and procurement at an individual (customer/patient) level.
targets all levels of the locality's market shaping and commissioning responsibilities for the local population, from the Health and Wellbeing Strategy, to local authority departmental strategies and plans. It is not intended to be used to review specific individual provisions or services.
Some of the measures will apply only if one of the local commissioners is purchasing, contracting or grant-funding specific housing-related interventions; for example, specifying certain dementia-friendly requirements in a contract, or directly monitoring performance.
And finally, completing the assessment in partnership with those working in the local system represents the first step in identifying current strengths and what needs to happen to ensure that future local commissioning decisions for health and wellbeing are based on an understanding of:
The importance of the physical home environment to the health and wellbeing of people with dementia, their families and carers
The contribution that housing-related services and interventions can make to the wellbeing of people with dementia, their families and carers
The contribution the housing workforce can make to the wellbeing of people with dementia, and what is needed to develop this workforce, and crucially
The perspective and housing needs of people with dementia, their families and carers, and the support needed to ensure this is central to decision making
The tool comprises two elements, the introduction and self-assessment questions using a traffic-light approach in one part, and resources including links to specific tools, research studies, case studies and websites to support improvement in the second part. These are available in one combined document or as two separate ones for ease of use.