Delivering health and care for people who sleep rough: going above and beyond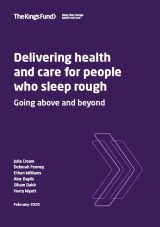 People who sleep rough have complex and multiple health and care needs that all too often are not met.
They have some of the worst health outcomes in England. The NHS alone cannot reduce poor health outcomes for people sleeping rough. Tackling rough sleeping involves improving people's health, social wellbeing and housing situation as well as supporting them to find long-term solutions.
This King's Fund report explored how four different local areas are delivering effective health and care services to people sleeping rough and what other areas might be able to learn from them. It found five shared principles that the four areas had in common to take steps to find and engage people sleeping rough; build and support local workforce to go above and beyond existing service limitations; prioritise relationships; tailor the local response to people sleeping rough; and use the full power of commissioning. In all of these, local leadership is vital to crafting an approach that is relevant to a local place and population. Leaders need to model positive relationships and effective partnership working across a range of different organisations.