Cross Generational Housing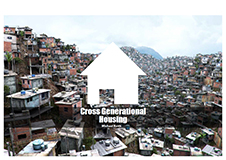 The research entities in this project have been designed to explore the chosen subject area that is cross generational housing.
Cross generational living is a traditional concept based upon the idea that the blending of families, in social living activities builds a community that enhances our understanding of one another. Cross generational homes provide a congenial environment for those who wish to connect and share with other generations on a daily basis.