Covid-19 and the digital divide: Supporting digital inclusion and skills during the pandemic and beyond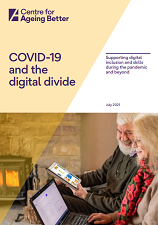 The COVID-19 pandemic has intensified the digital divide within the community. This report, published by Centre for Ageing Better, offers examples of good practice and recommendations for organisations that deliver services to users and help digitally excluded people with skills training.
Citizens Online conducted research with a range of organisations, local authorities, and people aged 50-70 years old to understand more about the effect of COVID-19 on digital skills and usage.
Key findings from the report found:
Increasing digital inclusivity is about building skills and confidence, in addition to getting more people online;
there is a lack of awareness among older adults of the support available;
organisations need more financial and peer support to support digital inclusion;
and, many people still do not want to use the interest and want to continue using non-digital channels.
The findings from this report will be of interest to leaders of community organisations, digital inclusion role holders at local authorities, digital-focused charities and funders wanting to support local community groups.