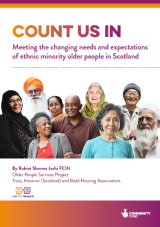 This report, published by Trust, Hanover (Scotland) and Bield Housing Associations details the findings from a series of interviews and focus groups with older ethnic minority people living in Scotland.
With the aim of understanding their needs around issues like home environment, financial wellbeing, physical and mental health, care needs and responsibilities and participation in society. 43 individuals were interviewed and 20 focus groups were conducted with over 355 people taking part in the questionnaires - across Glasgow, Edinburgh, Irvine, Aberdeen among other Scottish cities.
The main findings from this report suggest that ethnic minority older people have an ideal living situation where they are living independently in their own home close by to local shops and GP poractices.
Additionally, from the interviews it was found that when ethnic minority older people did not plan for the future it was bound with the belief that they could always move in with their children if they needed to.
The report recommends:
that social services make earlier interventions to ensure home adaptations are made before urgent need
more accessible information and support on housing options when downsizing
the development of services that provide advice and support for ethnic minority older people that need to plan for future housing needs,
the development of sheltered housing and care accommodation for people of different cultures and/or languages.