Cost model: Extra Care Housing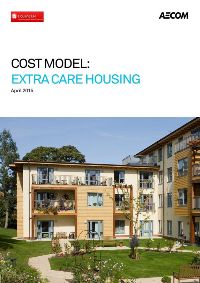 This jointly published report with AECOM, Pozzoni Architects and the Housing LIN replaces case study No34 which provided an overview of extra care housing in general and concludes with a cost model based on a scheme of 16 self-contained single-bed flats and six two-bed homes located as a three-storey separate wing to a care home.
The 2015 report provides an overview of the policy and funding drivers for extra care housing and give an updated cost model based on a recent extra care housing development in the North of England comprising 77 one and two bedroom apartments covering a gross internal area of 6,855 m2. Costs exclude site works and relate to 1st quarter 2015.
5 years on, Pozzoni Architecture along with RLB and CPC Cost Consultants, have updated this Housing LIN report (see link below to the updated report entitled, Design & Cost Considerations for Extra Care Housing).