Cornwall Hospital Discharge Partnership Project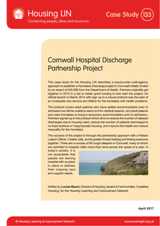 This Housing LIN Case Study no 133 describes a county-wide multi-agency approach to establish a Homeless Discharge project in Cornwall initially funded by an award of £65,000 from the Department of Health.
Partners originally got together in 2013 in a bid to obtain grant funding to kick start the project. An official launch in March 2014 with sign up to a robust protocol was the start of an invaluable new service and lifeline for the homeless with health problems.