Co-producing with head and heart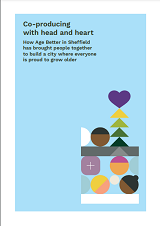 In 2015 South Yorkshire Housing Association (SYHA) were delighted that Sheffield was named one of only 14 areas in England to be awarded the Ageing Better programme from The National Lottery Community Fund (TNLCF). Over the last five years, their core partners and delivery partners have successfully delivered a programme with co-production truly at its heart.
This report outlines how Age Better in Sheffield has brought people together to build a city where everyone is proud to grow older.
The report also references The Stronger Together Co-Production toolkit (opens new window), hosted on SYHA's website, that offers an abundance of information and resources and in available to any organisation, service, group, or individual.
The toolkit is organised into 12 distinct co-production themes:
Creating a co-production culture
Community development through micro-funding
Tackling ageism through co-production and age-friendly communities
Co-production within coastal and rural communities
Tackling loneliness through co-commissioning
Empowering communities through partnership working
Co-researching within the community
Growing sustainable groups
Diversity and inclusion
Creativity in co-production
Asset-based community development
Co-production in a crisis
The overall aim of the toolkit was to bring to life the work of the Ageing Better programme in a way that could be accessed by anyone wanting to work with people in their communities, whether at a strategic, operational or grassroots level.