Co-creating Environments: Empowering Elders and Strengthening Communities through Design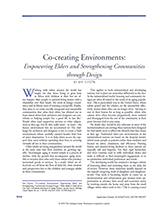 Older people can be marginalised within our communities, and the traditional design of housing for older people can contribute to this.
Many types of supported living for older people are based on a hospital model which emphasises hygiene and efficiency. They are based around rigid hierarchies and strict routine that can stifle individual choice.
In this paper Emi Kiyota argues that by listening to older people and involving them in the design process we can build housing that not only meets their needs, but also transforms communities.
"Community is something we have to create with others, not something we can passively receive." – Emi Kiyota