Closing the health gap - a gap worth closing: How housing can play its part in reducing health inequalities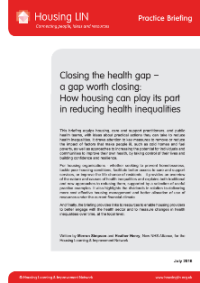 This Housing LIN Practice Briefing equips housing, care and support practitioners, and public health teams, with ideas about practical actions they can take to reduce health inequalities. It draws attention to key measures to remove or reduce the impact of factors that make people ill, such as cold homes and fuel poverty, as well as approaches to increasing the potential for individuals and communities to improve their own health, by taking control of their lives and building confidence and resilience.
For housing organisations - whether seeking to prevent homelessness, tackle poor housing conditions, facilitate better access to care and support services, or improve the life chance of residents - it provides an overview of the nature and causes of health inequalities and explains both traditional and new approaches to reducing them, supported by a selection of useful practice examples. It also highlights the dividends in relation to delivering more cost effective housing management and better allocation of use of resources under the current financial climate.
And finally, the briefing provides links to resources to enable housing providers to better engage with the health sector and to measure changes in health inequalities over time, at the local level.