Care Closer to Home. The Gateway, Middlesbrough: A New Integrated Health, Social Care & Housing Pathway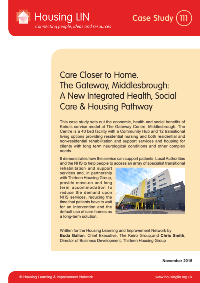 This Housing LIN Case Study no 111 sets out the economic, health and social benefits of Keiro's service model at The Gateway Centre, Middlesbrough. The Centre is a 40 bed facility with a Community Hub and 12 transitional living options providing residential nursing and both residential and non-residential rehabilitation and support services and housing for clients with long term neurological conditions and other complex needs.
It demonstrates how the service can support patients, Local Authorities and the NHS to help people to access an array of specialist transitional rehabilitation and support services and, in partnership with Thirteen Housing Group, provide move-on and long term accommodation to reduce the demand upon NHS services, reducing the time that patients have to wait for an intervention and the default use of care homes as a long-term solution.