Build Back Fairer: The COVID-19 Marmot Review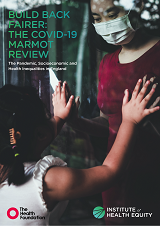 Professor Sir Michael Marmot, Director of UCL's Institute of Health Equity, has published a new landmark report setting out the evidence that a generation of children and young people are at risk of worsening health and having shorter lives post the COVID-19 pandemic.
The aim of this latest report is three-fold:
To examine inequalities in COVID-19 mortality. Focus is on inequalities in mortality among members of BAME groups and among certain occupations, alongside continued attention to the socioeconomic gradient in health – the more deprived the area, the worse COVID-19 mortality tends to be
To show the effects that the pandemic, and the societal response to contain the pandemic, have had on social and economic inequalities, their effects on mental and physical health, and their likely effects on health inequalities in the future
To make recommendations on what needs to be done
In particular, he notes that in England the excess death rate linked to COVID-19 is higher than anywhere else in Europe. Pandemic containment measures (lockdowns, tier systems, social isolation) have harmed children and young people's well-being and has damaged everyone's prospect for improved long-term health. Furthermore, he highlights the UK's lack of social cohesion – everyone working together for the common good – as an additional reason for the country's current poor state of health.
And, in relation to housing, Chapter 7 includes a section on the impact of COVID-19 containment on housing inequalities. It makes references to the condition of properties on wellbeing, access to outdoor space, the need for decent quality homes, housing affordability, and homelessness and rough sleeping.
You can access Professor Marmot's full report and executive summary below. To read his earlier reports on our Health Intel pages, click on the links for the Marmot Review 10 Years on (2020) and Fairer Society, Healthier Lives (2010).