Blazing a trail: Extra Care Housing in Blandford Forum, Dorset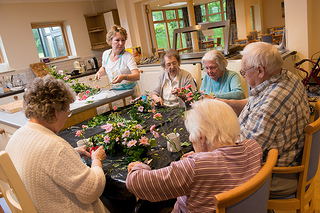 Improving the quality of life for older people in extra care: Measuring outcomes
This Housing LIN case study no 82 case study showcases the improvements in the quality of life of residents that have been achieved at Trailway Court, a 40 unit Extra Care Housing scheme in the market town of Blandford Forum in Dorset.
Designed by PRP Architects and managed by the Aster Group, the £6.1m scheme was supported by a Department of Health capital grant of £1.75 million in 2008.
Drawing on research undertaken by Dorset County Council, this case study was launched at the Housing LIN 2014 annual conference and highlights the cost and benefits of an Extra Care Housing scheme compared to alternative services and, using the Adult Social Care Outcomes Tool (ASCOT), evidences the improved outcomes for older people after a move into extra care housing.