Better lives for older people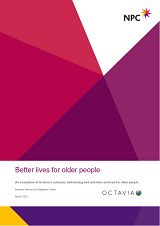 This report by Octavia Housing and New Philanthropy Capital explores the existing evidence around loneliness and isolation amongst older people.
It provides important findings on the effectiveness of outreach, befriending and activity engagement services older people's emotional and social lives.
The findings in the report suggest that theses services had an important role to play in improving the social and emotional lives of older residents during the Covid-19 pandemic.
The befriending and engagement services were also found to provide the following positive aspects to the residents living there:
Improvements to self-esteem
Reduced loneliness
Feelings of being socially connected
Improved ability of residents to access essential services, and improved usage of the correct services
Self-care improvements and support for maintaining physical health and independence