Being Home - Housing and Dementia in Scotland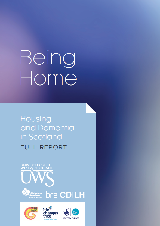 The focus of this report is to provide a comprehensive overview of the current housing situation for people affected by dementia including a range of housing options, possible solutions, services and supports.
There are approximately 90,684 people living with dementia in Scotland. Information about the role of housing services in dementia is limited, yet the escalating drive for the person living with dementia to remain at home has made involvement of housing and housing related staff essential.