Becoming a dementia friendly organisation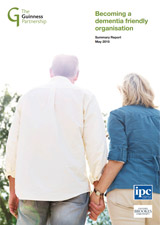 This summary by the Guinness Partnership outlines how is aims to become a dementia friendly organisation so that it makes a difference for customers living with dementia.
It reports on a number of findings from a range of activities designed to demonstrate why dementia is important to Guinness and the scale of the challenge for the organisation.
It identifies how many customers are likely to be living with dementia, where are they living and what are the characteristics of dementia friendly services and homes
Finally it recommends what should be done to transform the Partnership so it becomes more dementia friendly?