BSG Position statement on loneliness and social isolation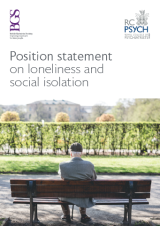 This report from the British Geriatrics Society (BGS) and the Royal College of Psychiatrists (RCPsych) covers the role of healthcare staff in tackling loneliness and social isolation among older people.
It also highlights loneliness as a major public health issue to be addressed by both governments and other organisations, and details its recommendations to tackle them.
The report states that older people are more likely to experience loneliness compared to younger people due to issues such as bereavement, increased lifespan compared to friends and relatives, poor health and mobility issues making it harder to leave their home.
The recommendations from the report are that governments should be more responsive to the needs of older people, whom often have different and more complex needs compared to younger people, and that commissioners of loneliness services should enter into longer term arrangements with providers to ensure that charities have sustainable funding.