Attitudinal survey of Mature Homeowners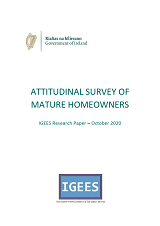 This Irish Government Economic & Evaluation Service (IGEES) report presents findings from a co-funded survey between the Department of Public Expenditure and Reform and the Department of Housing, Local Government and Heritage.
The survey assesses the willingness of mature homeowners to downsize and their responsiveness to potential measures that could encourage them to downsize. Its estimated that between 15 and 20 percent of mature households would be willing to move if they were able to downsize and generate savings from the move.