Approaches to operational excellence and managing the quality of the extra care service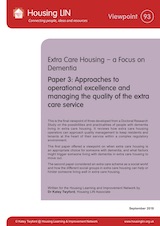 Housing LIN Viewpoints 91-93 are a series of linked viewpoints by Dr Katey Twyford based on a Doctoral Research Study. The viewpoints concern extra care housing for people with dementia and look at how provision can be improved.
The third and final viewpoint (no 93) reviews how extra care housing operators can approach quality management to keep residents and tenants at the heart of their service within a complex regulatory environment.