An Occupational Therapist's Access Checklist - a practical Tool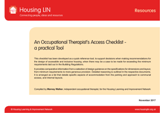 This Housing LIN checklist has been developed as a quick reference tool, to support decisions when making recommendations for the design of accessible and inclusive housing, when there may be a case to be made for exceeding the minimum requirements laid out in the Building Regulations.
It provides comparative information from a selection of design guidance on the specifications for dimensions and layout, from minimum requirements to more generous provision. Detailed reasoning is outlined in the respective documents. It is arranged as a list that details specific aspects of accommodation from the parking and approach to communal access, and internal layouts.