Almshouses: a model of community housing for an ageing population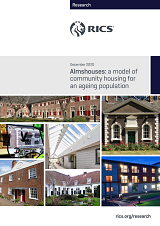 Almshouses have existed in England for over a thousand years, and new almshouses are still being built, as evidenced by a recent HAPPI design winner (opens new window).
There are currently an estimated 30,000 almshouse dwellings providing social housing for over 36,000 people, most of whom are older people (aged 50/60+ years), but for many policy makers, funders and constructors, they are a very niche market.
This research for RICS by Jenny Pannell and Dr Alison Pooley (Anglia Ruskin University) takes a future-focused approach to almshouses, looking at recent developments to inform housing provision in the 21st century. It builds on Jenny's work for the Housing LIN and these pages to explore their distinct and valuable contribution to housing older people and to inform built environment and housing professionals, including architects and surveyors, funders, local authority housing and planning officers, prospective partner organisations, Homes England and the UK government.
To accompany the launch of this report, Nick Phillips (the CEO of the Almshouse Association) and the Housing LIN's Jeremy Porteus have produced these YouTube videos: