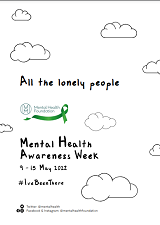 This Mental Health Foundation (MHF) report - "All the lonely people" – was published as part of Mental Health Awareness Week 2022 which focusses on loneliness. The report explores what it's like to be lonely: its causes, consequences and the groups of people who are more likely to experience severe and enduring loneliness.
The report looks at the strong links between loneliness and mental health and shares the stories of nine individuals who often or always feel lonely. It considers the circumstances, situations and life events that can increase our risk of loneliness and sets out new findings around the public's understanding of loneliness and who it affects.
This report also shares some of the ways people cope with loneliness day-to-day and explains why we need to address practical, structural and psychological barriers to connection if we want to reduce the burden of loneliness and prevent its impacts on mental health.
Some of the key findings include:
While anyone can experience loneliness, certain risk factors increase our chances of severe and lasting loneliness that can affect our mental health.
Long-term loneliness can impact our mental and physical health – which has implications not just for individuals but also society at large.
While the public have a good understanding of the impact of loneliness, they overlook some of the key groups at risk of severe loneliness, such as carers and LGBTQ+ people.
It's important to understand the reasons why people find it hard to build and sustain relationships.
People who feel lonely use a range of coping techniques to help themselves feel better day-to-day.