Age Proud: Exploring Positive Ageing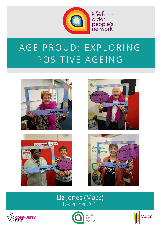 This report by the Greater Manchester Older People's Network finds that the current narratives on ageing are overwhelmingly negative. Ageing is perceived as a negative in itself and this is reflected in both language and imagery. It highlights that stereotypes and assumptions about older generations are often characterised by weakness and a lack of capacity, and in terms of societal burden. However, it also outlines how positive narratives can change the conversation to engage and empower older people.
The report emphasises the freedom potentially offered by ageing; an opportunity to focus on interests, try new things and to define yourself in terms of your intrinsic values. It also highlights an increased sense of community and the value of a sense of giving back, making a contribution and having an impact. It also suggests that there is potentially a change in perspective accompanying ageing that can result in greater confidence and a more philosophical approach. It finds that older people value opportunities to share their knowledge and experience as well as to continue to have an impact and express their views. It is up to organisations and agencies that work with older people to ensure that they engage with a more positive narrative around older people and provide opportunities that value and empower.