Affordable Housing Supply Programme Guidance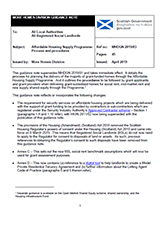 This guidance details the process for planning the delivery of the majority of grant-funded homes through the Scottish Government's Affordable Housing Supply Programme.
It outlines the procedures to be followed by grant applicants and grant providers when delivering grant-subsidised homes for social rent, mid-market rent and new supply shared equity through the Programme.
It draws attention to the needs of older people for retirement accommodation and there is also separate guidance for local authorities and housing associations for adapting existing stock for older and disabled people.