Advantage GM: Unlocking the longevity economy for Greater Manchester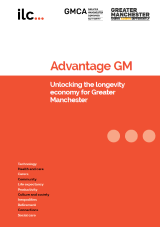 This report sets out the findings of research by the International Longevity Centre UK (ILC), in partnership with the Greater Manchester Ageing Hub at the Greater Manchester Combined Authority (GMCA), to respond to the new Local Industrial Strategy and connect the efforts and assets across GMCA that can promote and direct innovation to respond to the economic opportunities of ageing.
For example, the report found that:
By 2040, there will be 198,000 more people aged 50+ in Greater Manchester, against a total population of approximately 3,000,000
The combined spending power of Greater Manchester's households aged 65+ is increasing by £280 million each year
Greater Manchester's 65+ households are currently saving £1.8 billion each year that could be spent within the local economy
Making Greater Manchester town centres more accessible and appealing to older consumers could boost high street spending by more than £50 million each year
In relation to housing, there is a specific chapter recommending that, in addition to new housing stock, there are significant opportunities in relation to home improvements and adaptations, developing new services and products to help people adapt their homes as they age. It cites that these could include physical adaptations such as eye-level ovens or telescopic shelves, digital and connected home products, and new business models to fund home improvements.