Adapted Homes, Empowered Lives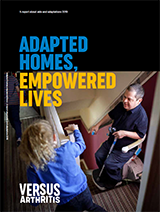 Aids and adaptations in the home such as grab rails, raised toilet seats and stair-lifts, can transform the quality of life of people with arthritis and can mean the difference someone being able to live independently or not.
This equipment can help people with pain and limited mobility to do basic everyday activities and live independently for longer. When surveyed, people with arthritis, 94% of people who use aids and adaptations say they've had a positive impact on their lives, helping them maintain independence and delaying or preventing further care needs.