Adaptations for children and young people with behaviours that challenge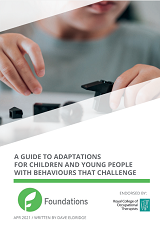 Foundations, the national body for Home Improvement Agencies (HIAs), has published new guidance for housing adaptations.
It calls for a better understanding of the needs of people with autism and/or learning disabilities in housing adaptations and the system-wide cost benefits.
The guide has been developed to provide advice and information to local authorities and HIAs dealing with requests for adaptations for people with behaviours which challenge by providing advice and guidance for staff carrying out assessments and for staff determining applications for funding.
For example, it includes case studies and examples of good practice in order to support the effective use of the Disabled Facilities Grant and the discretionary housing assistance policies. The guide will also be useful for occupational therapists and staff in other agencies working with children and young people with complex needs whose home may need to be adapted.