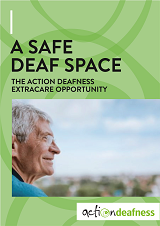 This report by Action Deafness looks to determine a way forward with regard to the design and commissioning of housing and care services that are inclusive of the needs of older deaf people and which, thereby promoting their increased wellbeing and longevity.
It provides findings from their research into the benefits of Extra Care housing for older deaf people and challenges all to rethink models of housing care for older deaf people.
In particular, it looks at the shape and form such a housing solution might take and considers the potential for Action Deafness to develop a pilot Extra Care housing scheme for older deaf community - including the following features:
A BSL environment - which works to prevent isolation and promote social stimulation
A total communication approach - one that ensures all deaf people, regardless of the level of their deafness and in addition to those that only use BSL, are able to access provision in the communication mode of choice
Ready and accessible information - which enables residents to make informed choices reference their housing, care, social activities and more. Through this and a supportive multi-disciplinary team of workers all empower older deaf people to self-advocate and self-represent, through which they are able to experience enhanced wellbeing and longevity. All team members are also fluent in Sign Language and versed in the intricacies of deaf culture.
Flexible tenure choice - an accommodation of mixed tenure, including owner occupier, part ownership and affordable rent.
Deaf aware design - accommodation and the environment built on the 'Deaf Space' principles of space and proximity, sensory reach, mobility and proximity, acoustics, light and colour, as advocated by Hansel Bauman.