A fresh outlook on wellbeing: delivering person-centred care across the West Midlands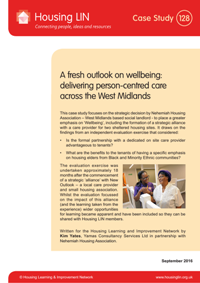 This Housing LIN case study no 128 focuses on the strategic decision by Nehemiah Housing Association, a West Midlands based social landlord. It places a greater emphasis on 'Wellbeing', including the formation of a strategic alliance with a care provider for two sheltered housing sites.
Drawing on the findings from an independent evaluation exercise, it considered:
Is the formal partnership with a dedicated on site care provider advantageous to tenants?
What are the benefits to the tenants of having a specific emphasis on housing elders from Black and Minority Ethnic communities?
The evaluation exercise was undertaken approximately 18 months after the commencement of a strategic 'alliance' with New Outlook - a local care provider and small housing association.
Whilst the evaluation focussed on the impact of this alliance (and the learning taken from the experience) wider opportunities for learning became apparent and have been included so they can be shared with Housing LIN members.