A citizen-led approach to health and care: Lessons from the Wigan Deal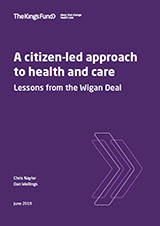 Over a period of six years, public services in Wigan have been through a major process of transformation, based on the idea of building a different relationship with local people. The new approach to delivering services has become known as the 'Wigan Deal'.
This report provides an independent critique of the Wigan Deal drawing on in-depth research, including interviews with key stakeholders, focus groups with members of the public and evidence from data analysis. It explores what local authorities, NHS organisations and others can learn from Wigan's journey of transformation.
The Wigan Deal is an example of 'asset-based' working, in which public services seek to build on the strengths and assets of individuals and communities to improve outcomes. Although other areas have explored similar approaches, Wigan is notable for the scale and consistency with which these ideas have been applied.