A National Covid-19 Resilience Programme: Improving the health and wellbeing of older people during the pandemic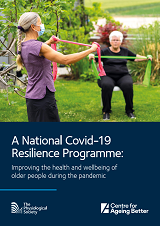 This report by the Physiological Society and the Centre for Ageing Better provides insight into the health effects of Covid-19 on older people and provides recommendations that mitigate the health impacts and reduce the risk of serious disease.
The report aims to address three key questions:
What happens to a healthy older person during lockdown or shielding?
How do Covid-19 risk factors relate to age?
What are the physiological challenges to address as older people recover from Covid-19?
Evidence is collected to answer these questions from key contributions from physiologists, nutritionists, geriatricians, physiotherapists and clinicians that have direct experience working on the front line during the pandemic.