A Community-Powered NHS: Making prevention a reality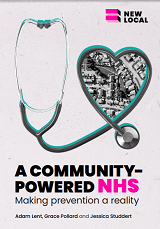 Published by New Local, this report sets out a much-needed new vision for a community-powered NHS focused as much on preventing illness as treating it.
Working collaboratively with communities as equal partners in the design and delivery of healthcare, this report argues showcases examples of where this is already happening. It also offers practical guidance on how to bring community power into the mainstream of the NHS.
It argues that if we are to keep the founding principles of the NHS being universally available and free at the point of use, we need to reorient our healthcare system to be much more capable of preventing illness occurring, alongside effective treatment when needed.
This report has been informed by a wide range of people and organisations.