40 facts - Homes, housing and house building today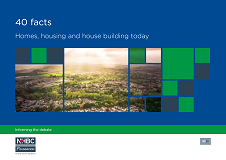 This new guide by NHBC Foundation looks at the state of house building in the UK today and predicts future trends. It draws on economic, demographic, and epidemiological data to look at housing's impact on the economy and health.
There are many sources of information on housing and house building, but it is often very difficult to lay your hands quickly on that key fact when you need it, and to be sure that information is as authoritative as possible.
The latest guide from the NHBC Foundation 40 facts: homes, housing and house building today, is an easy reference to a sample of key facts and figures which define and characterise the housing sector.
The guide presents an interesting picture of an industry that is firmly at the heart of the economy, with an estimated £38.4 billion invested in creating new homes in 2017.
I am often asked what are the best and most accessible sources of information about housing in the UK. A quick glance at the list of sources used for this publication gives the answer. There are a lot of different sources, but not all are easily accessible, and putting them all together in a way which gives a clear picture is something of a challenge. That is why we are publishing this latest guide from the NHBC Foundation, which puts together useful facts and figures about UK housing and house building.

Rt. Hon. Nick Raynsford

Chairman, NHBC Foundation